My Blog
Posts for tag: gum disease
By John P. O'Melia, DDS
April 12, 2020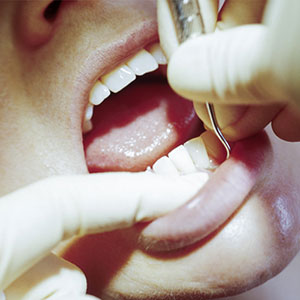 Periodontal (gum) disease is a serious infection that can damage more than periodontal tissues — supporting bone structure is also at risk. Any bone loss could eventually lead to tooth loss.
To stop it from causing this kind of damage, we must match this disease's aggressiveness with equally aggressive treatment. The various treatment techniques all have the same goal: to remove bacterial plaque, the source of the infection, from all oral surfaces, including below the gum line. Buildup of plaque, a thin film of food particles, after only a few days without adequate brushing and flossing is enough time to trigger gum disease.
The basic removal technique is called scaling, using hand instruments called scalers to manually remove plaque and calculus (hardened plaque deposits) above or just below the gum line. If the disease or infection has advanced to the roots, we may use another technique called root planing in which we shave or "plane" plaque and tartar from the root surfaces.
Advancing gum disease also causes a number of complex problems like abscesses (localized infections in certain areas of gum tissue) or periodontal pockets. In the latter circumstance the slight normal gap between tooth and gums becomes deeper as the tissues weaken and pull away. This forms a void or pocket that fills with inflammation or infection that must be removed. Plaque buildup can also occur around furcations, the places where a tooth's roots divide off from one another.
It may be necessary in these more complex situations to perform a procedure known as flap surgery to gain access to these infected areas. As the name implies, we create an opening in the gums with a hinge, much like the flap of a paper envelope. Once the accessed area has been cleansed of plaque and infected tissues (and often treated with antibiotics to stop further infection), the flapped tissue is closed back in place and sutured.
To avoid these advanced stages it's important for you to see us at the first sign of problems: swollen, red or bleeding gums. Even more important is to reduce your risk for gum disease in the first place with dedicated daily brushing and flossing to remove plaque and regular dental visits for more thorough cleaning.
Gum disease can be devastating to your long-term dental health. But with diligent hygiene and early aggressive treatment you can stop this destructive disease in its tracks.
If you would like more information on treating gum disease, please contact us or schedule an appointment for a consultation. You can also learn more about this topic by reading the Dear Doctor magazine article "Treating Difficult Areas of Periodontal Disease."
By John P. O'Melia, DDS
February 07, 2019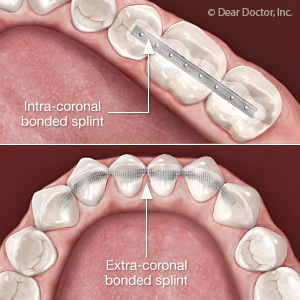 Although periodontal (gum) disease usually affects your gums first, your teeth may eventually suffer. That's because the disease can damage both attaching gum tissues and supporting bone.
One advanced sign of this is when one or more teeth become loose. A loose tooth is an alarm bell that you're about to lose it.
Fortunately, we can often treat loose diseased teeth with a two-phase approach. First and foremost, we need to bring the gum infection under control by removing plaque and calculus (tartar) — the "fuel" for the infection — from all tooth and gum surfaces. Depending on how extensive it is, we have options: we can use specially designed hand instruments to remove plaque and calculus, ultrasonic equipment that loosens and flushes plaque and calculus away, or, if necessary, conventional or laser surgery.
Depending on the extent of the infection, in some cases we may need to use regenerative surgical techniques like gum and bone grafting to replace lost tissue. Healing takes time, though, which leads to the second phase of treatment — securing the loose tooth during gum healing.
The most common way is through a bite adjustment, where teeth are altered to equilibrate chewing forces evenly. This results in all the teeth being hit at the same time allowing the loose teeth to heal and tighten up.
Another option is splinting teeth together. Although there are different methods, the basic idea is to join the loose teeth with stable teeth like pickets in a fence. One way is to bond splinting material across the back surfaces of the involved teeth. Another way is to cut in a small channel across the teeth and insert and bond a rigid strip of metal to splint the teeth in place.
The splint is usually a temporary measure while the gums heal. In some situations, though, we may need to perform a permanent splint by crowning the affected teeth and then splinting the crowns together. If you have a grinding habit we may also prescribe a night guard to limit the damage done while you sleep.
Before deciding on which technique is best for you, we would first need to evaluate the health of the affected teeth to see whether the effort would be worth it. It could be the tooth's supporting bone structure has become so deteriorated that it might be better to extract the tooth and consider an implant or other replacement. First, though, we would attempt if at all practical to save the tooth — and the sooner we begin treating it, the better your chances for such an outcome.
If you would like more information on loose teeth and gum disease, please contact us or schedule an appointment for a consultation. You can also learn more about this topic by reading the Dear Doctor magazine article "Treatment for Loose Teeth."
By John P. O'Melia, DDS
October 20, 2018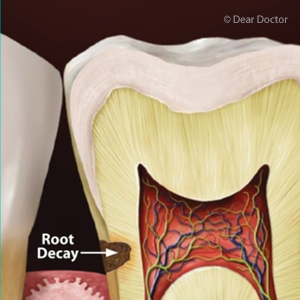 Tooth decay is a highly destructive dental disease, responsible along with periodontal (gum) disease for most adult tooth loss. And we become even more susceptible to it as we get older.
One form of decay that's especially prominent among senior adults is a root cavity. Similar to a cavity in the crown (visible tooth), this form instead occurs at or below the gum line in the roots. They happen mainly because the roots have become exposed due to gum recession, a common consequence of periodontal (gum) disease and/or brushing too hard.
Exposed roots are extremely vulnerable to disease because they don't have the benefit of protective enamel like the tooth crown, covered instead with a thin and less protective mineral-like material called cementum. Normally, that's not a problem because the gums that would normally cover them offer the bulk of the protection. But with the gums receded, the roots must depend on the less-effective cementum for protection against disease.
Although we treat root cavities in a similar way to those in the crown by removing decayed structure and then filling them, there's often an added difficulty in accessing them below the gum line. Because of its location we may need to surgically enter through the gums to reach the cavity. This can increase the effort and expense to treat them.
It's best then to prevent them if at all possible. This means practicing daily brushing and flossing to remove bacterial plaque, the thin, built-up biofilm on teeth most responsible for both tooth decay and gum disease. You should also visit your dentist at least twice a year for professional cleanings and advanced prevention methods like topical fluoride to strengthen any at-risk teeth.
You should also seek immediate treatment at the first sign of gum disease to help prevent gum recession. Even if it has occurred, treating the overall disease could help renew gum attachment. We may also need to support tissue regeneration with grafting surgery.
Root cavities are a serious matter that could lead to tooth loss. But by practicing prevention and getting prompt treatment for any dental disease, you can stop them from destroying your smile.
If you would like more information on diagnosing and treating root cavities, please contact us or schedule an appointment for a consultation. You can also learn more about this topic by reading the Dear Doctor magazine article "Root Cavities: Tooth Decay near the Gum Line Affects Many Older Adults."